Well friends, it is Wednesday and you know what that means!
Another installment of
A Bloggers Guide to Love n' Shit.
Meet Kristine!
Lovable, hilarious and delightfully honest girl, she is. You should check out her blog and catch up on EVERYTHING that has been going on in her life lately. This girl is ONE TOUGH COOKIE.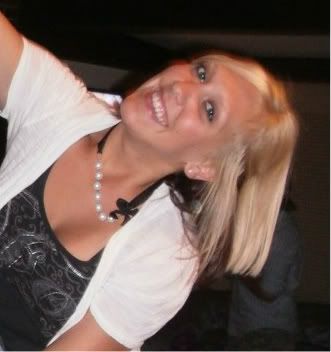 Yes, that's me… attempting to dance on a pole… that is holding someone's counter up. Yeah, I guess I can be kind of fun.
So Sabrina is probably the cutest dang thing I've ever seen and have you seen her fashion sense? TO. DIE. FOR. I envy you, girlfriend. Oh and she's like super duper pretty. Anyhow, she's reaching out to other bloggers for their stories on "love n' shit" and seeing as how these past four or five years I seem to have been through it all, I figured I might as well help her out.
I pondered how I was going to get this post started. I even took a few hours and poured my heart out about everything that happened in my first relationship (that may have been a few pages long) and then deleted it because I didn't want to bore Sabrina's readers… I'll save that to bore my own readers with – consider that you're only warning should you come follow my blog after reading this post.
I never had a "real" boyfriend growing up until my senior year of high school. We were complete opposites; he partied, did drugs, got drunk, stole things, and was just a bad boy in all. And here I was; a jock, had my own fun without drinking, and was completely outgoing. I didn't care what anyone thought of me and I loved making people laugh. So how and why I got tangled up with my now ex still makes me wonder.
We were together for almost 4 years. In all actuality, I should've left him not even six months into the relationship but, I was twitter patted. Ya know, after all the lies, what I can only assume was infidelity, and deceit, it should've been a red flag right? Not for me. I kept holding on, kept giving chances like they were going out of style. How many of you can relate to that? Story. Of. My. Life. Well, for the past few years at least.
Once I met and fell in love with Kenny finally had the courage to end such a volatile relationship that I had been living in, it was like all hell broke loose. I had never been through a break-up before and my emotions were all over the place. There were words said, feelings hurt, and threats made. The local law enforcement was even involved. But I think what got to me the most was the fact that he started seeing someone within days of me leaving him. And shortly after (we're talking maybe a month later), he had knocked her up. And all I could think was, 'what the hell have I done to deserve this heart ache?'
It took about a year or so to fully get over him with the help of Kenny, friends, and my newfound slutty ways. I'm happy to say that I have since moved on from that dark, dark phase of my life and am actually civil (if not friendly?) with his other half (via Twitter, of course). Me and him have attempted to be civil but, it seems he still holds a grudge against me for God knows what and I could care less. I know we'll never be friends but maybe someday we'll be able to carry on an adult conversation when we run into each other in town. Key word: maybe.
Thanks so much for having me Sabrina!
==================================================
And thank you Kristine!
Tomorrow I will be posting yet another story that may be considered highly inappropriate.
I think you are really going to like it.
His name:
"Tippy"